Call of Duty mobile merupakan game yang sedang ramai diperbincangkan oleh kalangan player mobile gaming di Indonesia.
Bagaimana tidak? hadirnya mobile games bernama call of duty sekarang dapat dimainkan dalam smarthphone kalian.
Game call of duty mobile saat ini sudah mencapai angka 35 juta download diseluruh dunia.
Mobile games ini bergenre fist person shot menggunakan mode deathmatch, bomb mission dan warfare.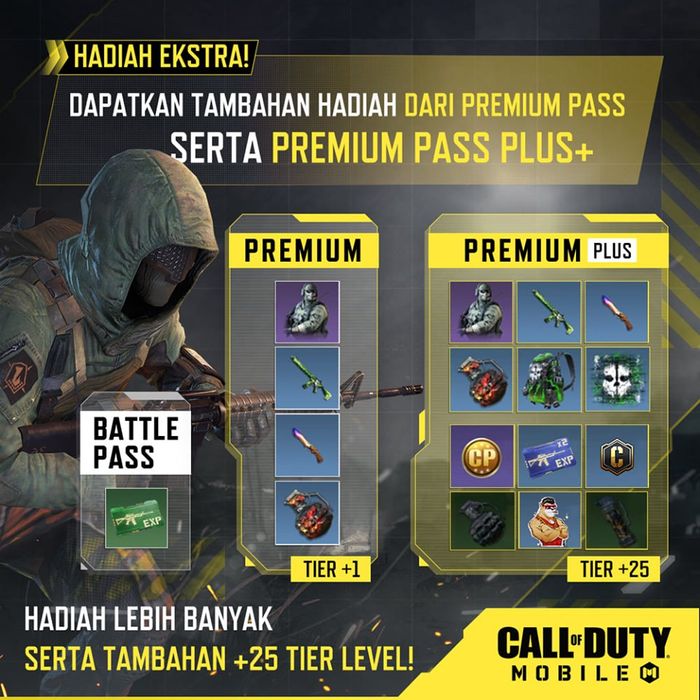 Terdapat dua jenis battle pass pada game call of duty mobile yaitu premium pass dan Premium Pass Plus.
1. Premium Pass
Premium Pass adalah misi yang bisa didapatkan dengan melakukan topup dengan menyelesaikan misi harian dan mingguan dengan hadiah paling standar dengan tambahan +1 level tier.
2. Premium Pass Plus
Premium Pass Plus adalah pass ddengan hadiah lengkap dengan hadiah tambahan berupa skin dan item eksklusif serta tambahan +25 level tier dengan melakukan topup voucher.
Dengan menggunakan misi premium pass dan premium pass pluss kamu akan mendapatkan misi harian dan mingguan.